According to Project management institue 2018 "Pulse of profession survey" global survey, organizations are wasting $99 million for every $1 billion investment due to poor project performance. 20 percent decline according to previous year survey but truth is, project failure rate is high.
What is the primary reason for project failure or not deliver on time? Survey highlights the program, managment, performers work. Graph shows the project delivery rate based on factors.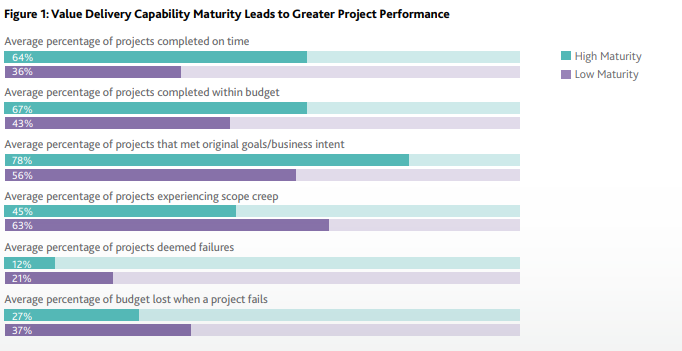 The following 7 points are key to deliver on-time, on-budget and goal based successful project delivery
1. Create a Plan :
The planning phase is often ignored. The tendency to jump straight in and begin to work. This is th huge mistake. Time spent o proper planning will keep things on track and save 15 percent of time during project work and pproject success delivery rate will increase to 25 percent. Basic point to remember at project planning time :
(I) Project Scope
(II) Define roles and reponsibilities
(III) Project Schedule
(IV) Budget
2. Open Communication :
Communication with in team is essential. If working under a project, tam should remains well infromed. If problem arises on one part of project, It can negatively impact other parts as well. Keeping success history of major project can help to avoid same mistakes again. Communication can help to solve lot of small mistakes in project work.
3. Monitor and Review :
To keep on track, keep referring back to original "project plan" to determine everytime on track with time and budget. Remeber that things will always chnage so keep updating plan and signing off it with clients.
4. Keep Track of task and time :
Devide all major task to small task and assing them to person. Stay updated about task status. You can use some online tool to manage task and connect team in single platform. Bugcutter is the perfect online tool to this. it is designeed to manage task and connect team in single screen with simple way. It's no pricing plan help you to save cost of project.
5. Resolve issue very quickly :
If anything go wrong on project, It's important to resolve them as soon as possible. For exaample, If client is not happy with any feature arrange face to face meeting and be prepared to talk through issue. Don't take it personally if they don't like the work so far, just determine what they exactly don't like.
6. Deliver and provide little extra support :
Once the project is complete and delivered, stick around to offer any support to ensure the client is happy. Little extra support help you to deliver project in good sucess rate in future.
7. Follow up with friendly Mail :
It's been a few week since you delivered the project to yourclient. Not It's time to follow things up with freindly email and phone call. Ask them how things are going and whether you can help with anything else. Because it's very likely you'll enjoy some repeat business — if the project was success.
Thank you for reading!